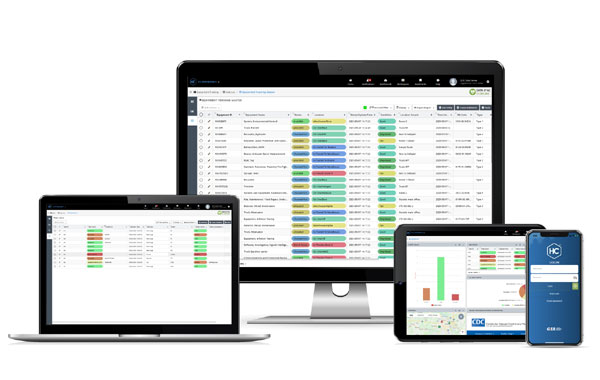 Track Your Resources
With Precision and Ease
Healthcare facilities, first responders and emergency management personnel often find themselves relying on outdated tracking and reporting systems when it comes to managing resources. Manual spreadsheets and checklists can only complicate and delay resources and supplies.
HC Standard® offers a better way to track people, equipment and facility needs. Our cloud-based software is ideal for organizations seeking a proprietary, in-house solution for tracking resources at any level of detail, right down to specific items of equipment.

Scan barcodes associated with any asset for easy recording and tracking.

Track resources at any level of detail, from whole shipments to individual items.

Ensure accountability and minimize loss with a  detailed virtual paper trail.
Personnel Tracking
HC Standard® makes it easy to track personnel and report their status. Designed for first responders, firefighters and military personnel, mass upload personnel and begin tracking their location, vitals and equipment – from start to finish. Easily scale the platform for short-term and long-term assignments, one-time events or emergency situations requiring rapid deployment of personnel across different teams
Track the movements of your personnel. For example, an incident commander or paramedic can use the software to track a firefighter entering and exiting a hot zone. Have instant, real-time information on where your people are, including their rehab status.
Efficiently analyze personnel data. Personnel location, status, and reports are logged into a central database for real-time visibility. Quickly run after-action reports and better understand how your team responded.
Equipment Tracking
Efficiently coordinate healthcare management resources. HC Standard® allows you to track physical assets at any level, from entire shipments to a box or pallet, or specific consumable items, such as vaccines or medical supplies. The platform keeps a clear and auditable electronic paper trail, capturing time-bound and spatial data about equipment, alongside designated roles and responsibilities. Its versatile combination of tracking features makes this tool ideal for coordinating an emergency response.
Generate and scan bar codes per shipped item. Anything moved from one place to another can be scanned out and in with ease. Used in conjunction with picture logs and location data, resource managers can build a clear paper trail.
Respond quickly in an emergency. Create a customized data collection dashboards to accommodate the movement of emergency management resources in any situation. Move resources quickly and reliably in time-critical emergency response situations
Bed Management
Originally developed as part of the federally mandated HAvBED (Hospital Available Beds for Emergencies and Disasters) reporting system, HC Standard's bed tracking software helps healthcare resource management groups to track and report bed availability. Using a customizable dashboard, healthcare organizations can view and manage bed status and availability within one or several facilities within their network.
Get granular data when needed. For facilities where specialized care is provided, the system can be configured to offer more granular data, with a detailed list of line items associated with each available bed.
Efficiently handle patients from initial treatment to release. HC Standard® resource management works seamlessly with HC Patient Tracking™, so your team can efficiently handle every step of a patient's treatment from the initial incident scene to discharge.
Why choose HC Standard® to track and manage your vital resources?
Track anything that can be scanned. Efficiently track people, assets, equipment, and facility availability through one resource management system. Highly customizable data collection forms that work on mobile devices.
Manage and track assets at any level of detail. Track a large shipment or drill right down to tracking individual items within a shipment.
Be ready with after action reporting. A complete electronic record of asset movement enhances accountability and reduces loss. Attach pictures, map data, assigned handlers, and barcodes to any item you need to track.
Are you looking for a better way to organize vital information and resources?