Infectious Disease Management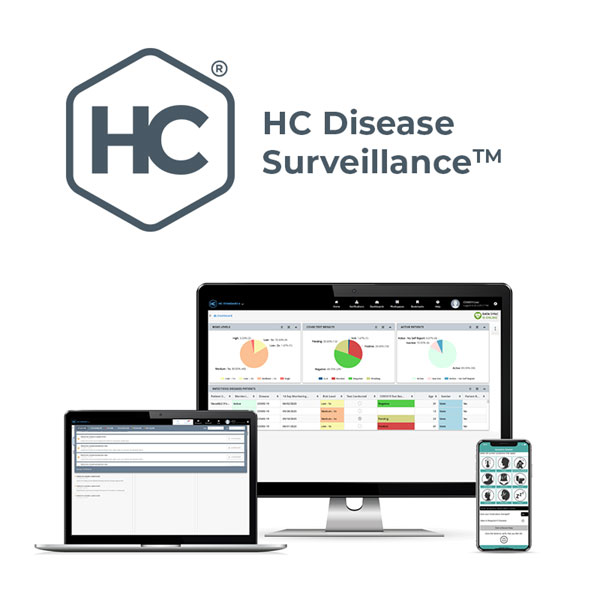 An Efficient Solution
to Managing Outbreaks
As the COVID-19 pandemic has shown, an outbreak of infectious disease can pose significant and lasting challenges for public health authorities and infection control procedures. In a large outbreak, healthcare systems and public health authorities face demanding symptom monitoring and contact tracing challenges. A slow response can be the difference between a few confirmed contagious patients and a full-blown outbreak – having a profound impact on a community.
Used individually or as a comprehensive solution, we can equip healthcare and private organizations with powerful tools to respond to infectious disease outbreaks quickly and efficiently. Our solutions offer a comprehensive, easy to implement system for managing infectious disease outbreaks — in childcare and schools, hospitals, businesses, public spaces and more.
Powered by our HC Standard® software, our infectious disease management solutions include:
HC Disease Surveillance™ for self-reporting and management of disease outbreaks.
Contact tracing to identify persons possibly exposed to an infectious disease.
Help Slow the Spread
Gain control to help minimize outbreaks with a comprehensive infection mitigation solution. Our software can be scaled to meet your response needs. Your team can deploy consistent data gathering and tracking wherever needed using any web-connected device. You also gain the confidence of working with a platform that is HIPAA and HITECH compliant.
HC Disease Surveillance™
Managing an infectious disease outbreak across a large population of individuals poses unique challenges for public health. Without adequate systems of surveillance, case managers and public health workers can't know where outbreaks are emerging, nor can they gauge how effectively the medical community is responding to emerging developments.
Powered by HC Standard®, HC Disease Surveillance™ helps healthcare workers develop and implement proper infection control procedures. The software allows healthcare workers and organizations to register large volumes of individuals and monitor who may be at risk of contracting or spreading an infectious disease. Our software can reliably handle surveillance data across populations of almost any size, giving healthcare providers and patients a simple and structured way to share critical infectious disease data.
Quickly upload and manage registration of individuals and disease types.
Customize and view case manager specific dashboards.
Update and manage individual records as needed.
Send daily reminders to self-report daily vitals and symptom checks.
Produce reports and archive data for compliance purposes.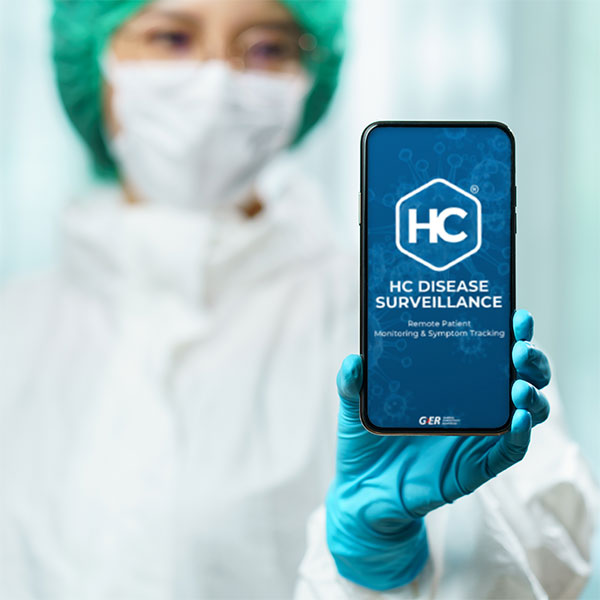 Mobile Self-Reporting Capability
Used on a daily basis or when a person is potentially exposed to an infectious disease, HC Disease Surveillance™ secure web-based software allows individuals to remotely self-report temperature and symptom checks using a smart phone, laptop or desktop computer. Information is shared in near real-time to authorized administrators, helping to monitor individuals in a safe manner.
Ideal for organizations needing a daily remote monitoring capability for employees or visitors prior to entering a facility or event and public health agencies needing to monitor individuals with possible exposure for contact tracing purposes.
Authorized users enter daily symptom and temperature checks in minutes.
Accessible on web-based browsers or mobile app.
Users with a symptomatic screening response can receive message of next steps.
Remotely Monitor Individuals for Symptoms
Dashboard allows authorized users a quick overview of reported data.
Receive real-time notifications of patient reporting.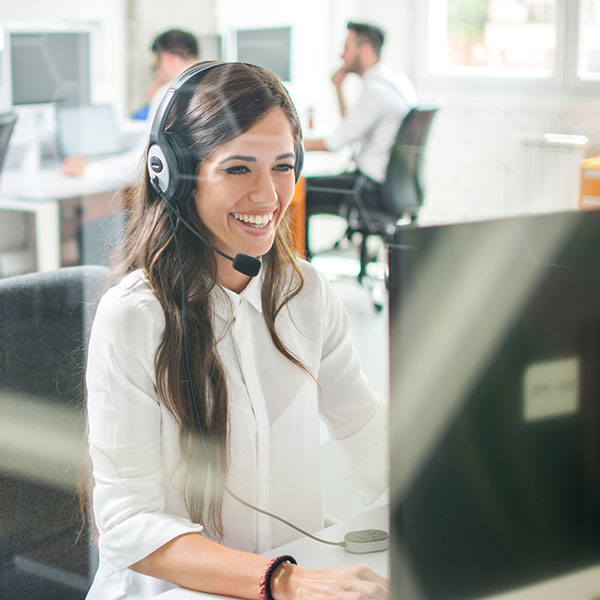 Contact Tracing Solutions
Contact tracing is a critical part of "flattening the curve" during an infectious disease outbreak. To achieve proper infection control, contact tracing is time demanding and time sensitive. Leveraging an extensively trained workforce of outbound call center agents through our parent company Central Research Inc., we're able to assist public health authorities with contacting, interviewing and reporting on possible exposures. Combined with HC Disease Surveillance™, this comprehensive solution can help slow the spread of infectious diseases.
Skilled, professional agents, using a guided interview process, can speak with individuals who tested positive to collect names of individuals or locations where possible exposure occurred within a recent period. Agents can also contact those potentially exposed, providing them next steps.
Bilingual staff, trained in the Johns Hopkins University Contact Tracing program.
Experts in obtaining the most current contact information to help locate potentially exposed individuals.
Daily monitoring available either via telephone or through HC Disease Surveillance™
Confidential and secure, following HHS/CDC guidelines and HIPAA compliant.
A comprehensive, cost-effective solution.
Our infectious disease management solutions offer a powerful set of tools for managing, tracking and analyzing infectious disease outbreaks. We offer an easy-to-use, cost-effective solution to help hospitals, public health agencies and emergency response teams limit the spread of contagious diseases. Let us help you with slowing the spread of infectious diseases and keep our communities safe.
Bring all your tools for managing infectious diseases into one integrated platform.

Customize to your unique requirements

24/7 support, 365 days of the year

HIPAA, HITECH, PHEP, CMS and HPP compliant