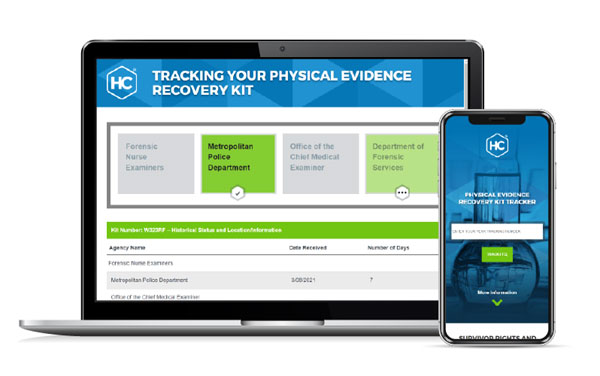 Get Rid of Bottlenecks
Organizations mandated by law to process Physical Evidence Recovery Kits (PERKs) within a certain timeframe struggle to hit deadlines due to ineffective tracking processes. Evidence kits are handled by numerous organizations during the examination process, from healthcare providers to law enforcement agencies and laboratory services. HC PERK Tracking™ removes the bottlenecks by giving your organization a centralized PERK tracking system that helps save administrative time while also allowing sexual assault victims to track progress and status.

Each client's data is securely hosted on a unique server via the cloud.

Victims conduct real-time lookups of their PERK, including location and status.

Administrative users can generate reports for tracking and compliance.
Proven PERK Tracking System
Powered by HC Standard®, HC PERK Tracking™ is a proven PERK tracking system used by the Washington D.C. Office of Victim Services and Justice Grants to track sexual assault kits throughout the evidence recovery and examination process. We've created a user-friendly, intuitive tracking system to ensure victims have transparency into the status of their PERK and agencies have accountability.
Administrative users of the web-based system can quickly view the number of PERKs being processed, their locations and the time of each kit at each location. Organizations also get a high-level view of the number of PERKs their agency is currently processing.
Sexual assault victims can conduct real-time lookups of their PERK, including agency location and status. Giving authorized access to the victims and survivors create a more private access to the status of evidence kit – eliminating the need to contact different agencies to find the latest update. This also saves administration time on behalf of the agencies handling the kits.
Identifies bottlenecks. See where exams may be backing up among various organizations during the sexual assault kit processing.
Creates compliancy. Ensure your organization meets mandated requirements for tracking and processing evidence kits.
Saves time. Reduce administrative work by allowing sexual assault victims to conduct their own lookup using a web-based browser.