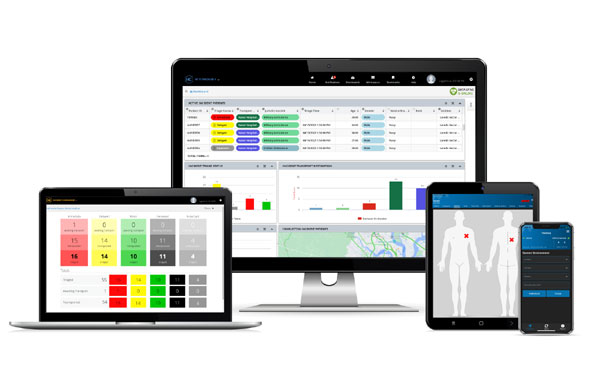 Remove the Complexity
When a large-scale emergency, natural disaster, or mass casualty incident occurs, tracking the movements of people is a critical part of coordinating an effective response. Critical decisions need to be made and executed with precision. Relying on phone calls and paper alone to collect and share information can cost time and lives. Track and manage patient movement with HC Patient Tracking™. The software adapts to your patient movement protocols, giving you the versatility to improve emergency department patient flow — and tracking generally — in your specific and unique setting.

Collect and share patient information and triage status in near real-time.

Track and share patient information to assist with family reunification. Provide high-level visibility across multiple agencies supporting the emergency response.
Collect and Share Critical Patient Information
Powered by HC Standard®, HC Patient Tracking™ allows first responders to gather vital patient data in the field, sharing it in near-real-time with other agencies and healthcare facilities – creating a more efficient patient care process from transport to treatment to discharge. The secure web-based platform is accessible using mobile devices, or for quick access, download the HC Standard® mobile app on iTunes or Google Play.
Scan barcodes for quick patient information retrieval.
Record patient injuries with a simple tap of the finger.
Record audio, video, still images and GPS coordinates.
Help Make More Informed Decisions
HC Patient Tracking™ keeps everyone aware and informed, helping teams make critical decisions during an emergency. Give incident commanders, transport coordinators and hospitals heightened situational awareness via a mobile device, laptop or desktop computer. Hospitals can be better prepared to receive new patients, move current patients, and ensure proper staffing and availability of medical supplies.
Tracking patient status and movement, including hospital destination to ensure arrival.
Share patient information with receiving hospitals to help prepare for arriving patients.
Dashboards allow users to visualize data and understand scope of an event.
Reduce offlload times: Electronically transferring patient information produces faster offload times. Simultaneously, a more comprehensive set of medical records equips incident commanders to accurately assess acuity when triaging patients.
Customize around your process: Other patient tracking software forces a specific approach to patient care coordination and patient tracking. GER can help you develop tailored tracking tools to suit your individual incident, event, and user requirements.
No installations necessary: Retrieve web-based data with no software installation required and share patient vital signs with receiving health care systems in near real-time.
Schedule a discovery call and demonstration today.