Our HC Shelter TrackingTM application enables permanent and temporary shelters to share critical information to support individuals and families in need.
Shelters can easily share bed availability to a network of authorized users, giving them access to search and reserve beds. Domestic violence shelters, homeless shelters, disaster shelters and mental health facilities can update bed availability, add new rooms and view requests for bed reservations through a customizable dashboard.
REQUEST DEMO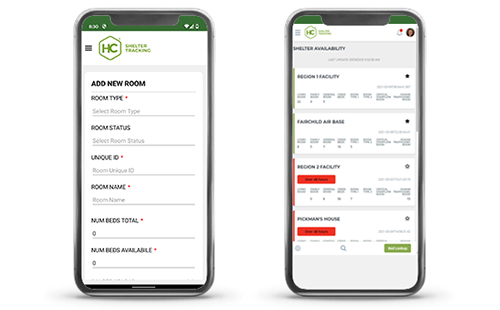 Saves Critical Time

Authorized users have real-time insight into shelter bed availability. Look up bed openings by region and make hold requests with a touch of a button.
Secure Access

System is housed on a secure, cloud-based platform that allows authorized users access to shelter information.
Mobile Friendly

Access the web application on any mobile device, laptop or desktop computer, without the need to download software.
Designed for Permanent and Temporary Shelters
HC Shelter TrackingTM was originally designed out of a need in the city of Dallas for domestic violence shelters. The success of the application created new opportunities for use at other shelters. Homeless shelters, mental health facilities and emergency shelters, such as heating and cooling centers, can use the app to secure shelter beds. When time is critical for individuals and families in need, HC Shelter TrackingTM gives shelter personnel and authorized users the ability to place people quickly and safely.
Key Features
Edit and update bed availability, room types, conditions and special features.
Customize bed information, such as room names, numbers and designations.
Scan shelters via regional views or statewide views.
View real-time bed availability via customizable dashboards.
Receive notification alerts when bed requests are made.
Scan QR codes associated with shelter rooms for quick bed management.