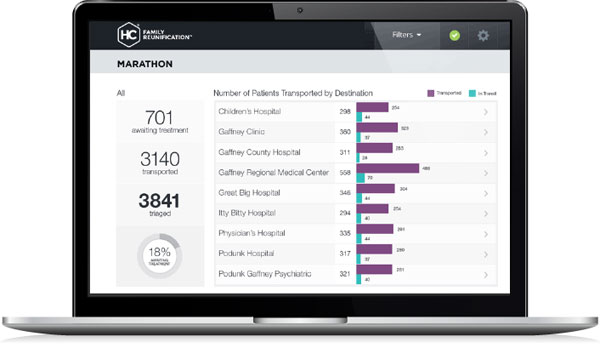 Streamline Communication
Separated family members need a way to find each other. This situation is distressing enough at a mass gathering or celebration, but in the aftermath of a mass casualty or evacuation event, family separation is terrifying. In a conventional family reunification program, call centers will contact hospitals by phone to locate missing family members. The process can be slow and error-prone, placing an additional communication burden on already overtaxed healthcare agencies. HC Family Reunification™ helps first responders or event employees run a faster and less resource-demanding family reunification program by connecting emergency responders with critical information in real-time.

Collect images, audio and video from the lost person or those looking for a lost person.

Capture GPS coordinates for quicker location details.

Share real-time information with authorized users across the platform.
Reunification During Any Situation
Powered by HC Standard®, HC Family Reunification™ is used to reunite those who have been separated during a mass gathering, natural disaster or mass casualty event. First responders, emergency management personnel and event organizers can gather information from individuals who are missing their family or friends and share in real-time with other emergency responders on the platform, helping expedite the reunification process.
Used during planned events, such as concerts or marathons, as well as large-scale emergencies such as hurricanes or mass shootings, HC Family Reunification™ can help reunite parents, children, families and friends. Get peace of mind knowing you have the right tool on the scene.